The ecuadorian Amazon Rainforest, is a magical place with many wonderful places to visit. Discover 10 of the many atractions of the amazon!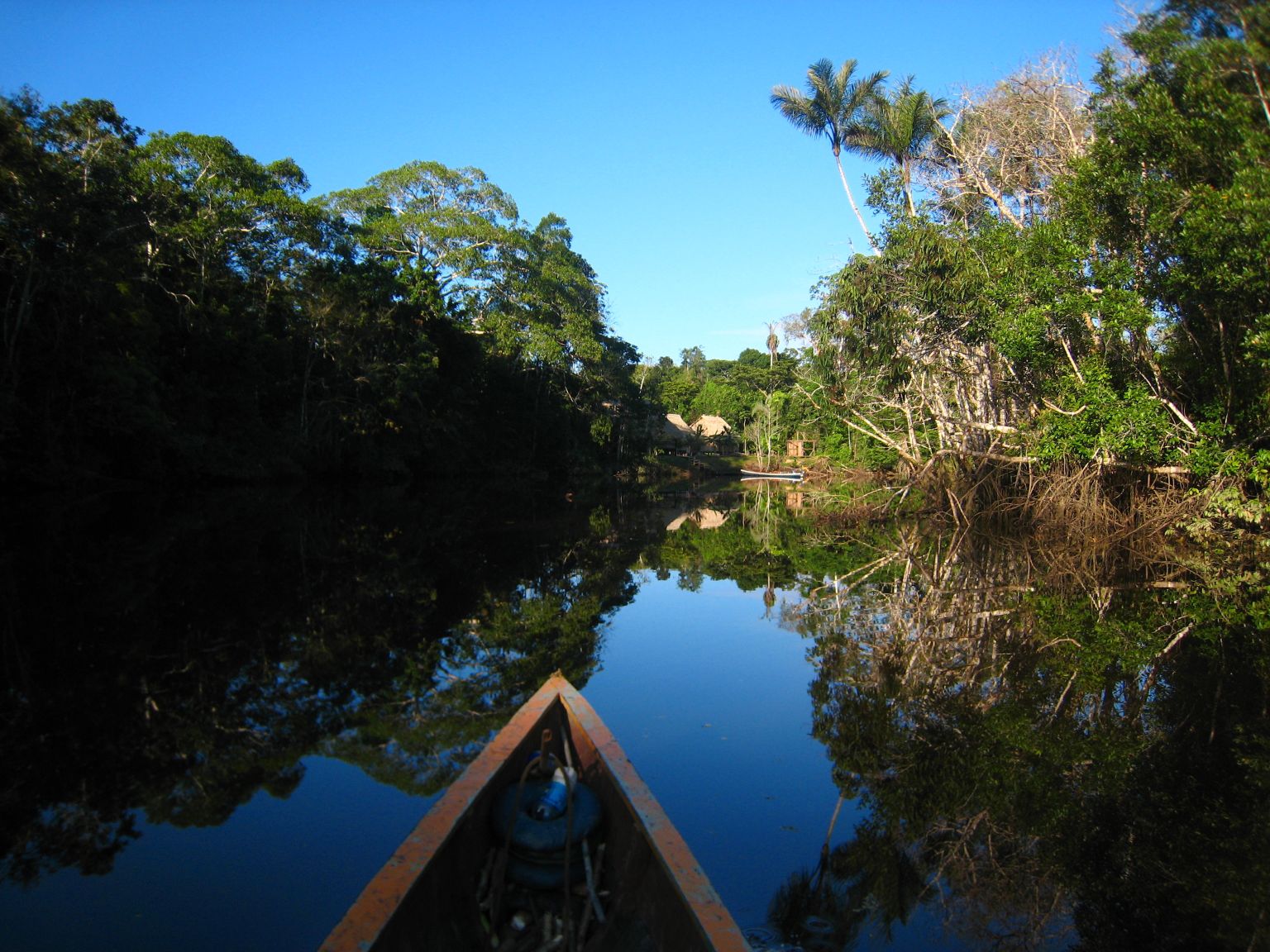 Photo from Sintaxis
1. Cuyabeno Wildlife Reserve is the second largest nature reserve in Ecuador and one of the most
bio-diverse parks in the world. Take a canoe around the flooded forests of Cuyabeno and experience the incredible amount of flora and fauna this reserve has to offer.
2. Soaring more than 3,500 meters above the jungle, the Sumaco Volcano is surrounded by steep ravines and dense jungle – elements that have kept tourists at bay and preserved the areas flora and fauna.
3. Learn about the rainforest at the Jatun Sacha Biological Station. In addition to continually conducting research on the rainforest, the station also works on a number of forest protection and sustainable development projects and is the second largest conservation organization in Ecuador.

4. The village of Misahuallí is a remote port at the juncture of the Napo and Misahuallí rivers and is a popular starting point for canoe trips and jungle tours. Visit the center of town and see monkeys climbing trees and roaming the plazas.
5. Surrounded by thick vegetation and beautiful scenery, The San Rafael Waterfall is considered one of the most impressive waterfalls in the Ecuadorian Amazon and one of the largest in the country.
6. Founded in 1560, Archidona is a colonial town that serves as a business and social center for the small Kichwa communities in the area.
7. Located only 4km from Archidona, Jumandy Caves (Cuevas de Jumandy) is a labyrinth of natural caves and water-filled tunnels that extend several kilometers underground. Be sure to wear a bathing suit and be prepared to splash around underground!

8. Tena is not only the capital of the Napo Province, but also the capital of white-water rafting and kayaking in Ecuador. The Amazon Jungle Rivers are large, clean, and scenic with consistent flows making this area ideal for adventure-seekers.
9. Declared a Biosphere Reserve by UNESCO in 1989, Yasuni National Park is the largest
protected area in continental Ecuador. Be sure to take a guide when you explore this extraordinary region that is home to an vast number of flora and fauna in the heart of the Amazon rainforest.

10. Huasquila Amazon Lodge! Huasquila is not only 100% accessible, but also committed to preserving the Ecuadorian Amazon. Since 2007, the eco-lodge and its "green-hearted" volunteers have reforested 50 acres with native trees and medicinal plants. The goal is to replant an ecological corridor that will connect the Cotundo area with the protected Antisana reserve. Thanks to this wonderful project, the newly reforested area has already attracted numerous animals (birds, armadillos, insects, and even monkeys!) in need of protection.